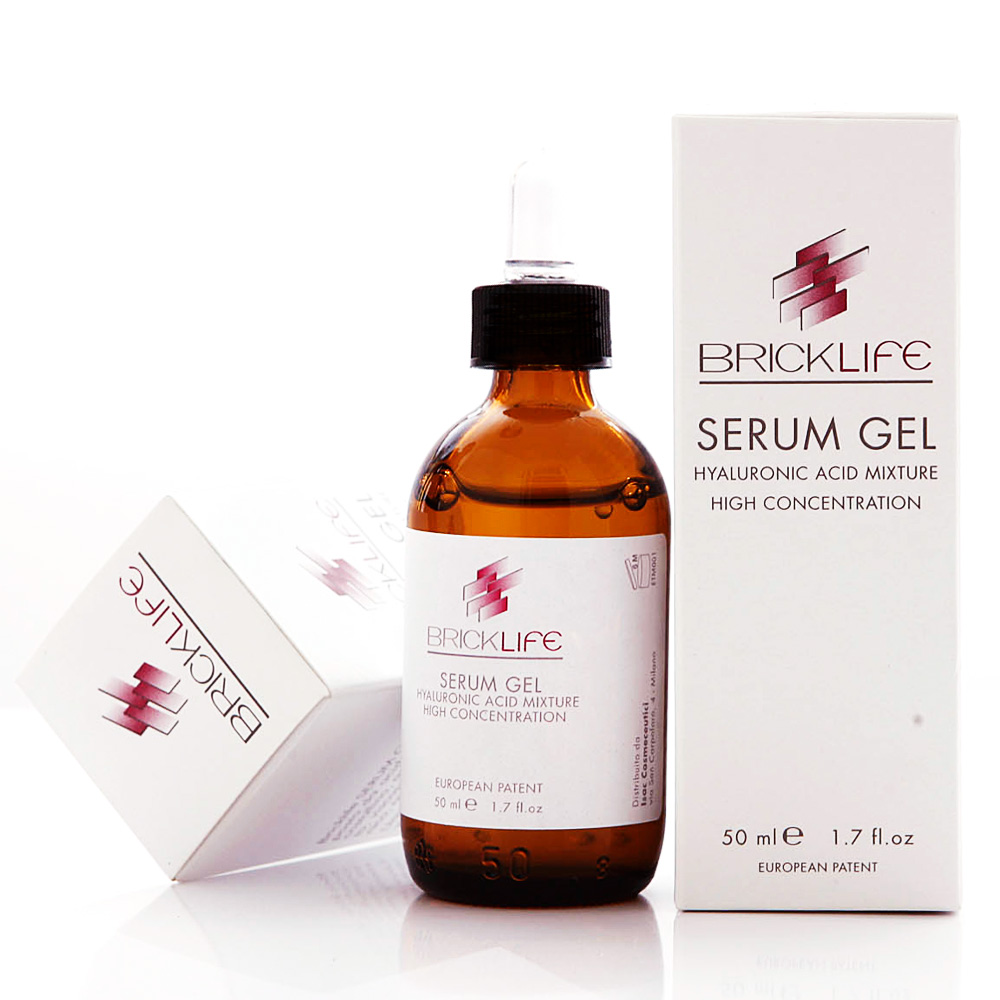 Serum Gel
110,00€
BRICKLIFE SERUM GEL (50ml)
Hyaluronic acid mixture High Concentration
NO PARABENS – NO SILICONES – NO ALLERGENS – NO ANIMAL TESTING
EUROPEAN PATENT

Product description
Hyaluronic acid plays a vital role in skin. For its ability to bind to a large number of water molecules is the major responsible for the water content of the tissues (in a gram of hyaluronic acid can bind up to six liters of water), for which the level of hydration of a tissue can be calculated from its content in hyaluronic acid.
Due to its moisturizing properties, emollient, filling, of solute transport, control and differentiation of cell growth, it manages to keep the skin hydrated, turgid, elastic, shining, young.
With advancing age, in condition of stress, environmental pollution, cigarette smoke, UVA and UVB radiation, the amount of hyaluronic acid in the skin decreases progressively causing wrinkles, blemishes, dehydration, loss of elasticity and tone .

Bricklife Serum Gel, thanks to an innovative patented mixture of hyaluronic acids with different molecular weights, at high concentrations, obtained by biotechnology, not of animal origin, offers a natural and effective solution that allows tissues to achieve a high degree of hydration, restoring and keeping the young, supple, toned and radiant, it balances the natural physiological functions.
Apply on clean skin as needed, at any time of the day.
Suitable for all skin types.
Compatible with any other cosmetic product.
.
AQUA, HYALURONIC ACID, HYDROLYZED GLYCOSAMINOGLYCANS, CHITOSAN, BENZOPHENONE-4, HYDROXYETHYLCELLULOSE, PHENOXYETHANOL, ETHYLHEXYLGLYCERIN