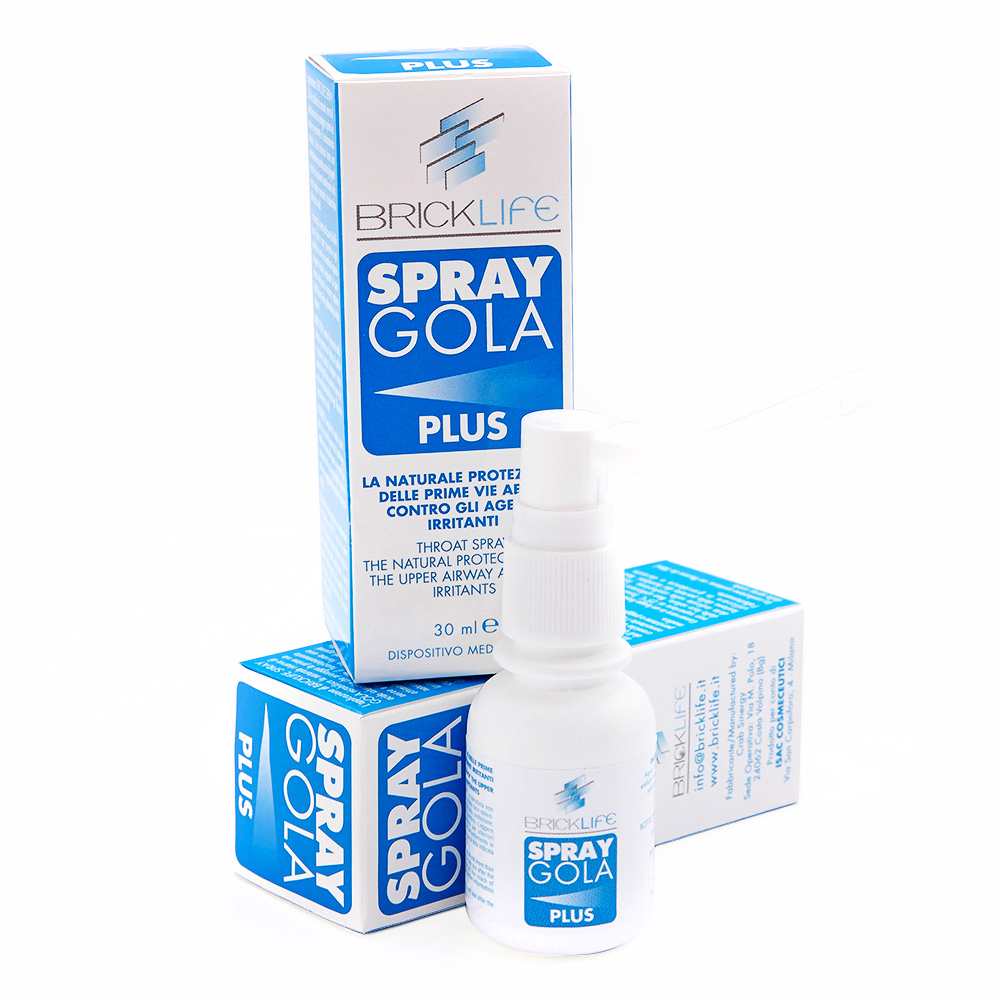 Throat Spray Plus
26,00€

BRICKLIFE THROAT SPRAY PLUS (Bottle 30ml E)
Hyaluronic acid in High Concentration
Medical device.
THE NATURAL PROTECTION OF UPPER AIRWAY AGAINST IRRITANT

Product description
Hyaluronic acid is the main component of the tissues that form the upper airways.
Their normal function depends on the presence of hyaluronic acid, which regulates the level of hydration and viscoelasticity.
The alteration of the natural physiological state of the throat, which can lead to inflammation, infection and dryness, is due to the loss of hyaluronic acid due to pollutants and irritants air we breathe, to dust, to cigarette smoke, chronic infections, the trauma caused by the vibratory function linked to the phonation and more generally to breathing.
Bricklife Throat Spray Plus, thanks to its formula based on hyaluronic acid at high concentrations, it offers an effective solution to restore and maintain the natural functioning of the upper airways. The characteristics of hyaluronic acid and the molecular structure allow to exert anti-inflammatory function, as a protective barrier against external agents, cicatrizing, absorption and resistance to shocks. Thanks to the ability to attract water molecules acts as a moisturizer in case of dryness of the throat.
Apply BrickLife Spray Plus to the first symptoms of soar throat for more times a day.
Possible side effects do not exist because the hyaluronic acid is non-immunogenic and can not give unwanted allergic reactions.
Store in a cool place at a temperature below 25 ° C. Keep away from sunlight.
Do not use after the date on the package.
Keep away from children. Do not use in pregnant or lactating.
Aqua, hyaluronic acid, sodium chloride, sodium benzoate, sisymbrium officinale extract, sodium citrate, eucalyptol, citric acid