QUALITY, EXPERIENCE, INNOVATION
Isac was born in 2010 in Milan, in a prestigious building in Brera, with the intention of contributing to the treatment of diseases with high social impact by offering a non-invasive medical approach, helping patients to achieve and maintain high standards of welfare.
Achieving our objectives goes by the constant research of quality. Without quality there is growth and development.
This implies a continuing ability to continuously improve processes and products, a formidable "gym" that leading and preares the entire company to innovation.
Innovation is significant when quality and profit become the natural consequence of an approach and a winning mentality, not when they are considered targets ends in themselves.
Corporate development, today, is increasingly linked to the ability to seek the common good bringing back at the center of their work ethics, sense of responsibility, quality, innovation and experience.
With these values ​​arises BRICKLIFE. The first line of products designed to take advantage of the multiple properties of a fundamental and ubiquitous molecule in the body: hyaluronic acid.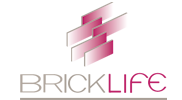 BRICKLIFE ©
on behalf of ISAC COSMECEUTICI
via San Carpoforo, 4
Milano (Italy)