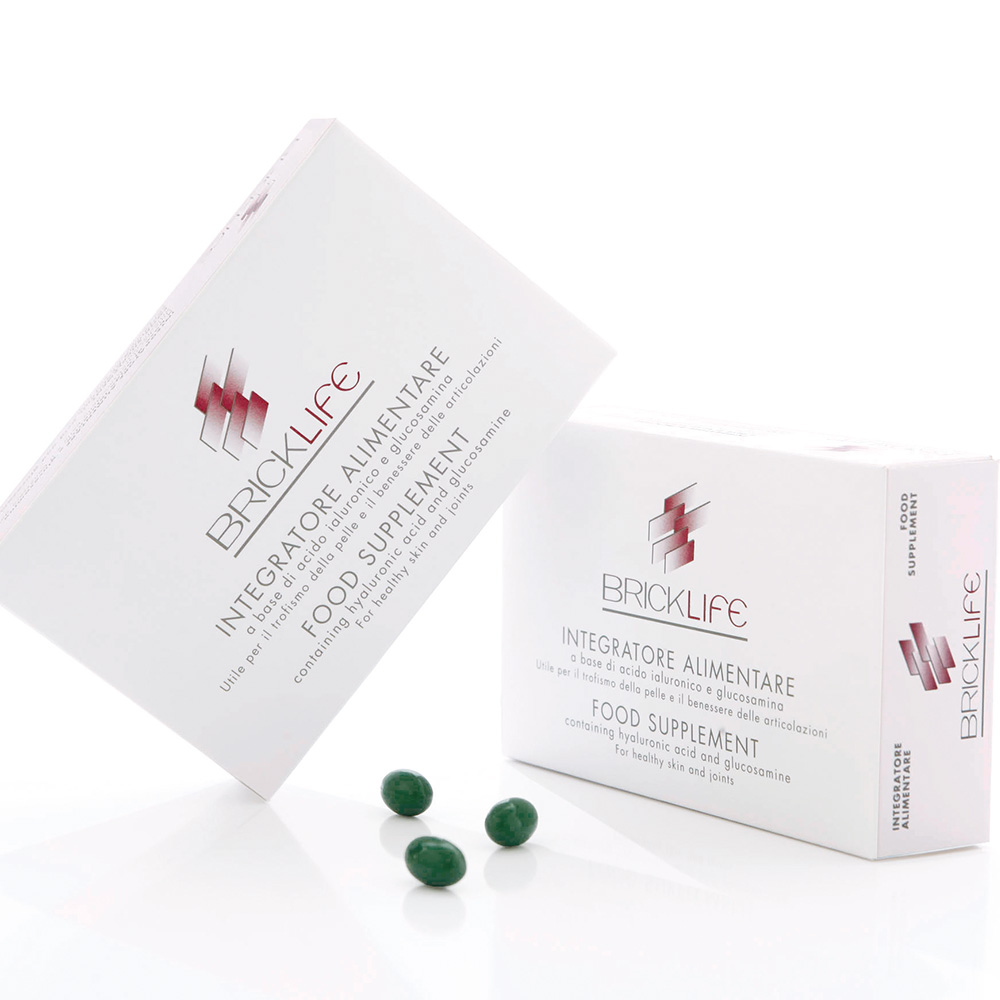 Bricklife Food Supplement
48,00€

BRICKLIFE FOOD SUPPLEMENT (40 capsules, 30.08g)
Containing hyaluronic acid and glucosamine
SKIN AND JOINTS
Product description
The well-being of the joints depends mainly on the content of hyaluronic acid in the synovial fluid and articular cartilage.
At articular level hyaluronic acid is a fundamental component of the synovial fluid, the fluid substance that bathes the joint surfaces and which acts as a lubricant; this liquid absorbs shock, resists to compressions, protects cartilage from consume and carries nutrients.
The decrease of hyaluronic acid in the joints as a result of aging, of inflammatory processes, of the osteo-articular degenerative diseases, sports activity, oxidative stress from environmental pollution, leading to a deterioration of the joints causing pain and progressively altering the normal motor functions.
Thanks to its viscoelasticity hyaluronic acid offers a natural and effective solution allowing to maintain the mechanical properties of the joints, like high resistance to compression, acting as a shock-absorbing. During the joint movement it acts as a lubricant, limiting and preventing friction. Through the ability to interact with specific receptors, it is capable of controlling the inflammatory response and pain.
It also contains glucosamine, a component of articular cartilage, a necessary element in the biosynthesis of glycosaminoglycans, which is a valuable extra help in the maintenance and reconstruction of the same.
Healthy skin depends mainly on its hyaluronic acid content. For its ability to bind to a large number of water molecules is the major responsible for the water content of the tissues (to a gram of hyaluronic acid can bind up to six liters of water). The amount of water of a tissue can be calculated from its content in hyaluronic acid.
With advancing aging, in conditionf of stress, environmental pollution, cigarette smoke, UVA and UVB radiation, the amount of hyaluronic acid in the skin decreases progressively causing wrinkles, blemishes, dehydration, loss of elasticity and tone.
Thanks to its ability to attract and attach itself to a considerable number of water molecules, the hyaluronic acid offers a natural and effective solution allowing the tissues to get a high degree of hydration, balancing the natural physiological functions and helping the trophism of the tissue , it restores and maintains the skin young, bright, elastic and toned.
Swallow 1-2 capsules a day with a glass of water, between meals.
Keep them out of the reach of children.
Seek medical advice for use when pregnant.
Store in a cool, dry place away from light.
Do not exceed the recommended dose.
The product does not pelace a balnced diet and a healthy lifestyle.
Medium-chan triglycerides (MCTs), gelatine, Hyaluronic acid, Glucosamine sulfate
Firming agent: Glycerol, Polyglycerol oleate
Emulsifier: Lecithin from Soya (Triglycerides in soybean oil)
Thickener: Glyceryl monostearate
anti-caking agent: Colloidal silica. Colours: E171 – E140.